Please sign in so that we can notify you about a reply
Show off photos of your beloved pets, children, grandchildren, favorite vacation photos, inspirational quotes, or anything that can fit in a 1-inch circle with this stunning personalized photo pendant.
This Rhinestone Bezel charm is Double-sided with a photo imprinted (sublimated) on both sides and will rotate. You can wear it bling out or silver side out. The photos are permanent and will not rub off or fade!
Makes a great wedding gift, graduation gift, new mother gift, best friend gift, holiday gift, memory gift, or any celebration gift by having one side printed with a date or year and a photograph on the other side.
Show off the growth of your pet with a puppy photo on one side and an adult photo on the other.
Add a quote on one side with a photo or artist graphic on the other. I'd be happy to do a custom graphic for you for an additional charge. The rate is based on request difficulty and starts at $10. Please email me at Bendi@BendisJewelry.com with your request for a price quote.
The photo size is approx. 1 inch.
A Stainless Steel chain adjustable to 24-inches is included!
After ordering please reply to your confirmation email from Bendi@BendisJewelry.com with your photos and any requests.
Hi!
Thanks for shopping with Bendi's Jewelry!
My name is Cyndi Jones and I bend wire into shapes inspired by the beach, nature, holidays, and more. I create my art with anodized aluminum wire which is feather-light and very easy to take care of. (I like to use toothpaste to clean both the aluminum and the sterling silver ear hooks.) I use basic hand tools and most of my art is made using one continuous piece of wire. Each piece is made by hand and is unique.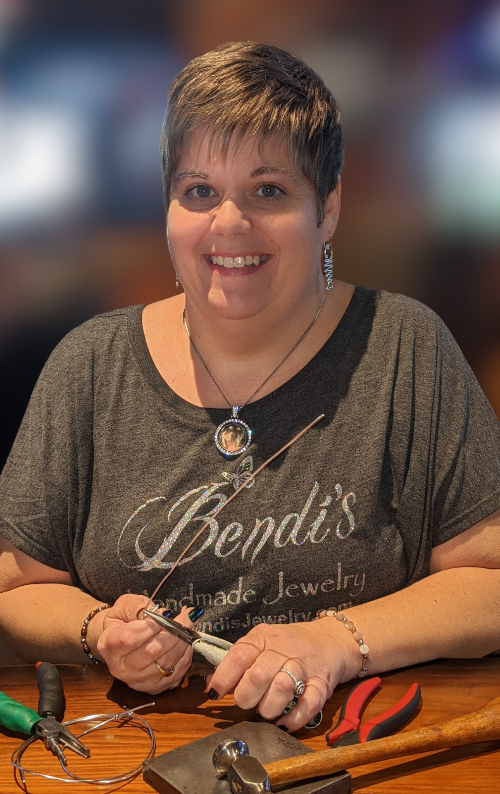 Most orders are made on-demand. We strive to get all orders shipped within 2 business days. Please allow a minimum of one week for large orders. If you need your order by a specific time please contact us at bendi@bendisjewelry.com .We will do our best to meet your needs but additional charges may apply. Orders are shipped via USPS from Maysville, NC 28555.